Holidays are a great time to break out the arts and crafts and decorate your home with some homemade and HEART made decorations! We're sure that you can find some room on the refrigerator for these activities. These sorts of arts and crafts allow for your child to work on their fine motor skills through cutting, coloring and all around decorating!
Create Edible Paint
When you have kids, you often have to worry about what things they're putting into their mouths. However, when you mix just 2 simple ingredients, you can forget that worry and focus on introducing them to new textures, colors and motor skills. All you have to do is, simply, mix yogurt with some food coloring and you're all set! Have your child play with the "paint" by using brushes, spoons or even their hands!
Make Heart Shaped Stamps
Toilet paper rolls aren't just good for holding toilet paper. There are numerous fun activities that can be done with a few simple tweaks. Now that you have some edible paint mixed and ready, grab an empty roll, fold a crease in the top and bottom (running the length of the tube) and fold the top on itself along the crease and hold it with tape. Now, you'll have a stamp for your kid to dip into your edible paint and put hearts all over!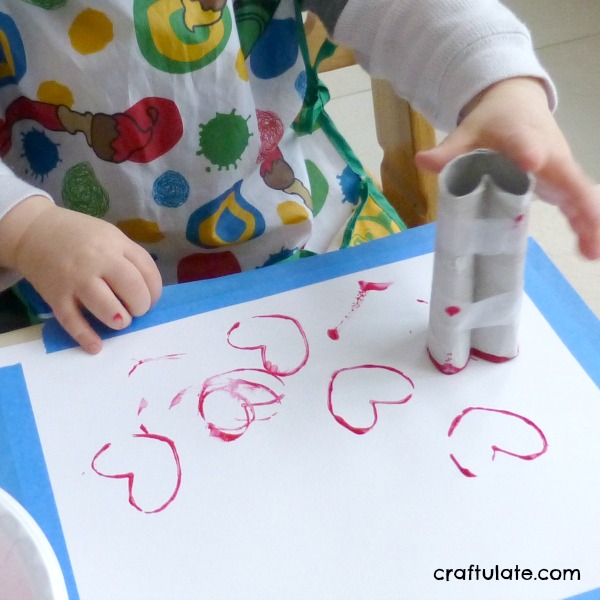 Turn Toilet Paper Rolls into Binoculars
If you have a SECOND toilet paper roll lying around, tape those heart-shaped bad boys together, punch some holes and attach some string and you've got a new toy to see the world through heart shaped lenses!
Cut Their Food Into Heart Shapes
Don't have a cookie cutter that's heart shaped? That's okay! Cutting sandwiches or pancakes or any of their foods into fun hearts by hand may take a little bit of extra time, but they'll love the little bit of love put into the presentation.
Learn Valentine's Day Songs Together
I'm A Little Valentine (Sung to I'm a Little Teapot)
I'm a little valentine
Red and White
With ribbons and lace
I'm a beautiful sight
I can say, "I Love You"
On Valentine's Day
Just put me in an envelope
And give me away
My Valentine Heart
When I say I love you
(Point to lips)
It comes from my heart
(Hand on heart)
You hear it in your ear
(Point to ear)
And it sounds very smart
(Point to head)
I love it when you're proud of me
(Stand very tall)
You say it all day long
(Stretch arms wide)
And when I hear you say it
(Point to ear)
My heart sings a merry song
(Hand on heart)
You don't have to do all of these in one day, either! Space them out. Change them up. Have fun with it and let your child have the joy of learning while playing!